Love is Blind
Episode 30
5 months ago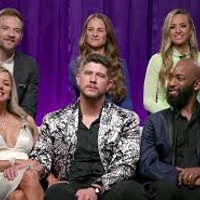 Is love blind? Netflix asked the question and Kathleen and Julie will attempt to answer. We breakdown episode by episode the bizarre dating show that helped people survive lockdown. They break down each couple and discuss their "career highlights" (basically the most insane moments) and then Producer Matt joins the fun when they play F**k Marry Kill with the contestants.
If you like the show be sure to Rate, Review & Subscribe!
Send us some emails at [email protected]
Follow us on our social media! Twitter: @MyFavEp Instagram: @MyFavEpOf Facebook Group: https://www.facebook.com/groups/MyFavoriteEpisodeof/
Find out more at https://my-favorite-episode.pinecast.co
This podcast is powered by Pinecast.