Game of Thrones S6E10 "Winds of Winter"
Episode 23
7 months ago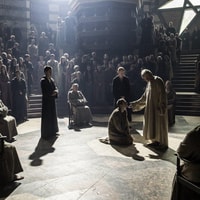 There are a ton of Spoilers in this weeks episode for Game of Thrones as a whole so if you've been putting it off you MAY want to avoid this one. Roaring 20's host Brooke joins Kathleen and Julie to break down Game of Thrones as a whole and dissect arguably the best episode in the shows history. They talk about why Ceresai is the Queen of Pettiness, Planking out window gifs and the issues they had with the final season.
If you like the show be sure to Rate, Review & Subscribe!
Send us some emails at [email protected]
Follow us on our social media! Twitter: @MyFavEp Instagram: @MyFavEpOf Facebook Group: https://www.facebook.com/groups/MyFavoriteEpisodeof/
Find out more at https://my-favorite-episode.pinecast.co
This podcast is powered by Pinecast.