Seinfeld S9E2 "The Voice"
Episode 25
7 months ago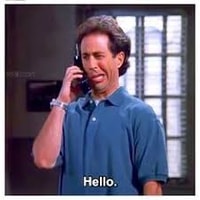 This week we are joined by the other Maximum Mediocrity host Morgan to discuss her favorite episode of highly influential sitcom Seinfeld. Jerry adds dialogue to his girlfriends belly, George refuses to quit his job, Kramer has an intern and Elaine can't stop the backslide in Season 9's THE VOICE.
If you like the show be sure to Rate, Review & Subscribe!
Send us some emails at [email protected]
Follow us on our social media! Twitter: @MyFavEp Instagram: @MyFavEpOf Facebook Group: https://www.facebook.com/groups/MyFavoriteEpisodeof/
Find out more at https://my-favorite-episode.pinecast.co
This podcast is powered by Pinecast.