Daria "Is It College Yet?"
Episode 22
7 months ago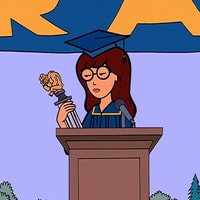 Producer Matt returns to the podcast to discuss three firsts with Daria. It marks our first Series Finale, Our first TV Movie and our First Animated show discussed on the show. Matt gives a full history of Daria's storytelling and character development while Julie and Kathleen reminisce about the worst parts of high school and college applications.
If you like the show be sure to Rate, Review & Subscribe!
Send us some emails at [email protected]
Follow us on our social media! Twitter: @MyFavEp Instagram: @MyFavEpOf Facebook Group: https://www.facebook.com/groups/MyFavoriteEpisodeof/
Find out more at https://my-favorite-episode.pinecast.co
This podcast is powered by Pinecast.