Curb Your Enthusiasm S4E6 "The Car Pool Lane"
Episode 17
a year ago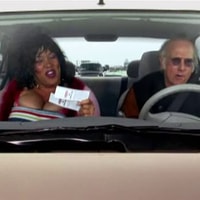 This week we're joined by frequent co-host but first time show picker Brian. Brian makes Kathleen and Julie watch his favorite episode of Curb Your Enthusiasm "The Carpool Lane" from Season 4.
Additionally they discuss Brian's failed audition tape for Kathleen's co-host position, why Brian is actually Larry David and what he loves about the series.
If you like the show be sure to Rate, Review & Subscribe!
Send us some emails at [email protected]
Follow us on our social media! Twitter: @MyFavEp Instagram: @MyFavEpOf Facebook Group: https://www.facebook.com/groups/MyFavoriteEpisodeof/
Find out more at https://my-favorite-episode.pinecast.co
This podcast is powered by Pinecast.