Killing Eve S1E1 "Nice Face"
Episode 15
a year ago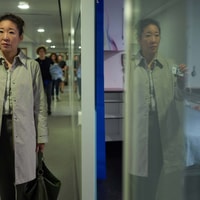 First off, it's official Kathleen is a full time cohost and kicks off her tenure with My Favorite Episode Of... by her and Julie doing an episode with their mutual friend Shannon.
Shannon picked the pilot episode of Killing Eve called Nice Face and the three discuss bad-ass assassins, the difference between a ballerina and a milkmaid and go on more tangents that anyone could count.
If you like the show be sure to Rate, Review & Subscribe!
Send us some emails at [email protected]
Follow us on our social media! Twitter: @MyFavEp Instagram: @MyFavEpOf Facebook Group: https://www.facebook.com/groups/MyFavoriteEpisodeof/
Find out more at https://my-favorite-episode.pinecast.co
This podcast is powered by Pinecast.